Police search for suspects after a local bottle-sorting business was robbed yesterday evening.
On August 3, 2022, just before 5 p.m. police responded to a robbery in progress call at a business in the 3900 block of Quadra Street. Two suspects, wearing Halloween-style masks, entered the business, assaulted at least one staff member, and grabbed the till containing cash.  An employee chased the suspects as they ran out of the store, during which, they were pepper sprayed by one of the suspects.
A grey Honda Civic hatchback, in which witnesses saw the suspects drive and park in the business lot, was seized by police as evidence.
Both suspects fled the area on foot south on Quadra Street and a search, with the assistance of the Integrated Canine Service, was unsuccessful in locating either of the suspects.
Investigators continue to collect evidence, including CCTV footage, from nearby businesses. The suspects are described as:
20-30 years old, black bucket hat, black outfit, gloves, Halloween mask.
20-30 years old, black hooded sweater, black pants, Halloween mask.
Anyone with information, including any dash cam footage from the area, is asked to contact the Saanich Police at 250-475-4321 or report anonymously through the Greater Victoria Crime Stoppers at 1-888-222-8477.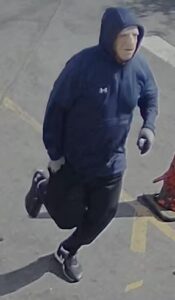 File 22-14783
Cst. Markus Anastasiades #256
Public Information & Communications Officer
media@saanichpolice.ca