The two suspects investigators were seeking for this file were identified early Friday evening and arrested. They are both facing one charge each of extortion, and one is facing an additional charge of possession of property obtained by crime.
Detectives on the case are still seeking anyone with information or that may have been affected in a similar manner to contact Detective Constable Dane Nicholson of the Major Crime Unit at dnicholson@saanichpolice.ca or by phone at 250-475-4321. Those wanting to make a report anonymously can contact the Greater Victoria Crime Stoppers at 1-888-222-8477.
The suspects created a profile on the dating app Grindr to meet their victim in July. During the conversation, they gathered personal and private information about their victim. The suspects then provided false information and arranged to meet their victim in person. When they met, they used the information they gathered to threaten and then extort their victim of more than $2,500.
The profile names used by the suspects were "Jay" and "Oliver."
Grindr Profile: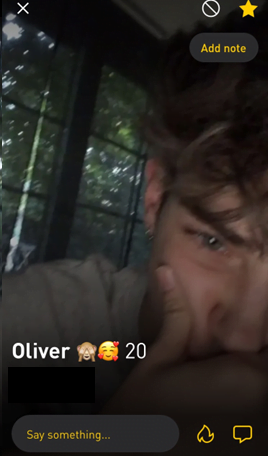 File 22-15748
Cst. Markus Anastasiades
Public Information & Communications Officer
media@saanichpolice.ca